Our Advantage
Expert Staff Service
Our specialty value added services are unique from other service providers because we have a lot of experiences of services into the semiconductor front-end equipment. We can guarantee you will have the greatest service that you need.
Total Solution
We don't just sell maintenance service. We provide a TOTAL SOLUTION to you.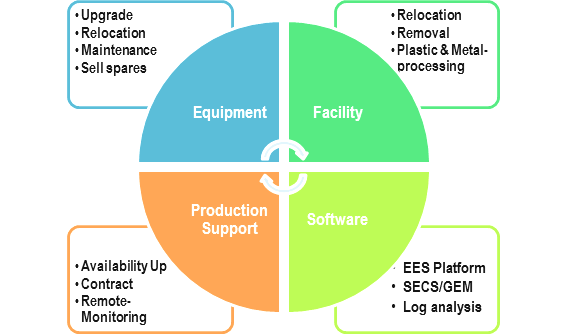 Safety Program

We act on the basis of a SEAJ(Semiconductor Equipment Association of Japan) recommendation service safety training program. We maintain an environmental, health and safety program.
Corporate Data
Company Profile
Company
Edge Semicon Inc.
Address
6-15 Kasumigaoka-machi, Tsuchiura-shi, Ibaraki
300-0825 Japan
TEL
(81)29-825-0255
FAX
(81)29-825-0256
Established
Mar 3, 2004
President
Hideharu Sakai
Bank
Tsukuba Bank, Ltd. Kasumigaoka-machi branch office.
Business Field

Technical Services
Solution Services
Laser Services
Customers
Major Customers
ELam Research Japan